Main content starts here, tab to start navigating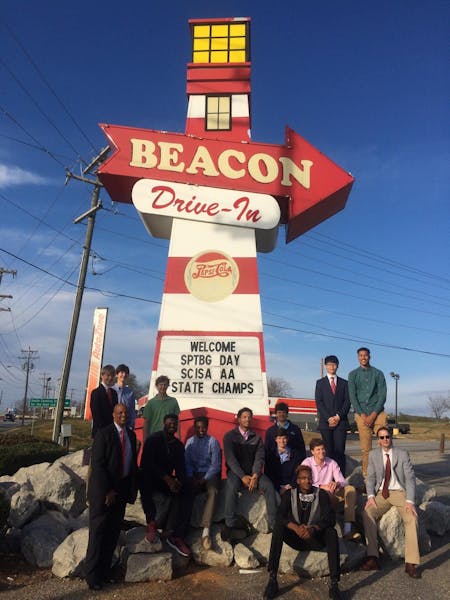 History of the Beacon
The Beacon stands for old-fashioned things...God, country, family, friends, children, and a decent meal at a fair price."
Sixty years ago, a move and three expansions later, the Beacon Drive-In, located at 255 John B. White, Sr. Blvd., Spartanburg, SC, has become a regional landmark, a Carolina tradition, and ranks as the second largest drive-in restaurant in the US.
The Beacon's fame is bound more in tradition...a sort of nostalgic mystique. J.C. will greet you at the counter with "Talk" and "Walk".
Using his own recipes, John White opened the Beacon on Thanksgiving Day in 1946 following World War II. Personally manning the cash register along with his sons for more than 50 years, John has become a true legend whose integrity, leadership and caring spirit have made him one of Spartanburg county's best known citizens.
On May 1, 1998, following John's most deserved retirement, the Beacon continues to be owned and operated by a local family. Sam Maw and Steve McManus, brothers-in-law, have a combined 58 years of food service experience. They, along with the Operating Management team: Kenny Church, General Manager, Sam Maw, Mark McManus and Steve Duncan share John's love for the Beacon and his passion for serving customers and the community.
Open seven days a week, the Beacon serves 1,000,000 customers of all cultures, nationalities, ages, and economic classes yearly.
The Beacon's large menu includes sandwiches, side orders, plates, seafood, desserts, breakfast biscuits, and features an entire selection of "a-plenty" dishes served with french fried potatoes and onion rings such as beef a-plenty, and chili-cheese burger a-plenty.
The Beacon is the tea kingpin serving more tea than any other restaurant in the world.
Many of the restaurant's more than 60 employees are long-term veterans of the Beacon, some with more than 50 years of service.
In June 1999, the Beacon Drive-In expanded to create "The Beacon Dairy Bar" offering more than 20 flavors of delicious ice cream supplied by Pet Dairy. Also favorites of our customers are the Beacon shakes, malts, and the Pig's Dinner.
Reidville Road was renamed John B. White, Sr. Boulevard in 1999.
The Beacon uses the following items in preparing its meals: * Three tons of onions per week * Three tons of potatoes per week * Four tons of beef, chicken, and seafood per week.
The Beacon is the largest single seller of iced tea in the U.S. We go through 3,000 pounds of sugar per week making 62,500 gallons per year (that's enough to fill 24 tanker trucks)!
Our dining rooms seat 350 people. We can accommodate groups up to 100 in one room.